What if someone handed you a written bass line at a rehearsal or gig and you could read it perfectly? How great would that be?

Would you also like to access the vast resource of books and charts only written in standard notation? You could really take your bass playing to the next level...

With my Reading Music For Bass Players program this can become a reality for YOU.
Open the door to many more gigs, stop wasting time searching for Tab online, and really reach your full potential on the bass guitar.

If you are reading this then I know that you are interested in learning to read music, so let me ask you a few questions...
Why do you think that you are not reading music already? 
Did you try and find it too hard, or did you not know where to start? 
Or do you think age is a factor?
Students come to me with many reasons why they don't think that they can learn to read music, but so far I have managed to break down all these barriers and successfully teach everyone who has come to me to read music.
While you think on this, I'll share my story about why I started to read music..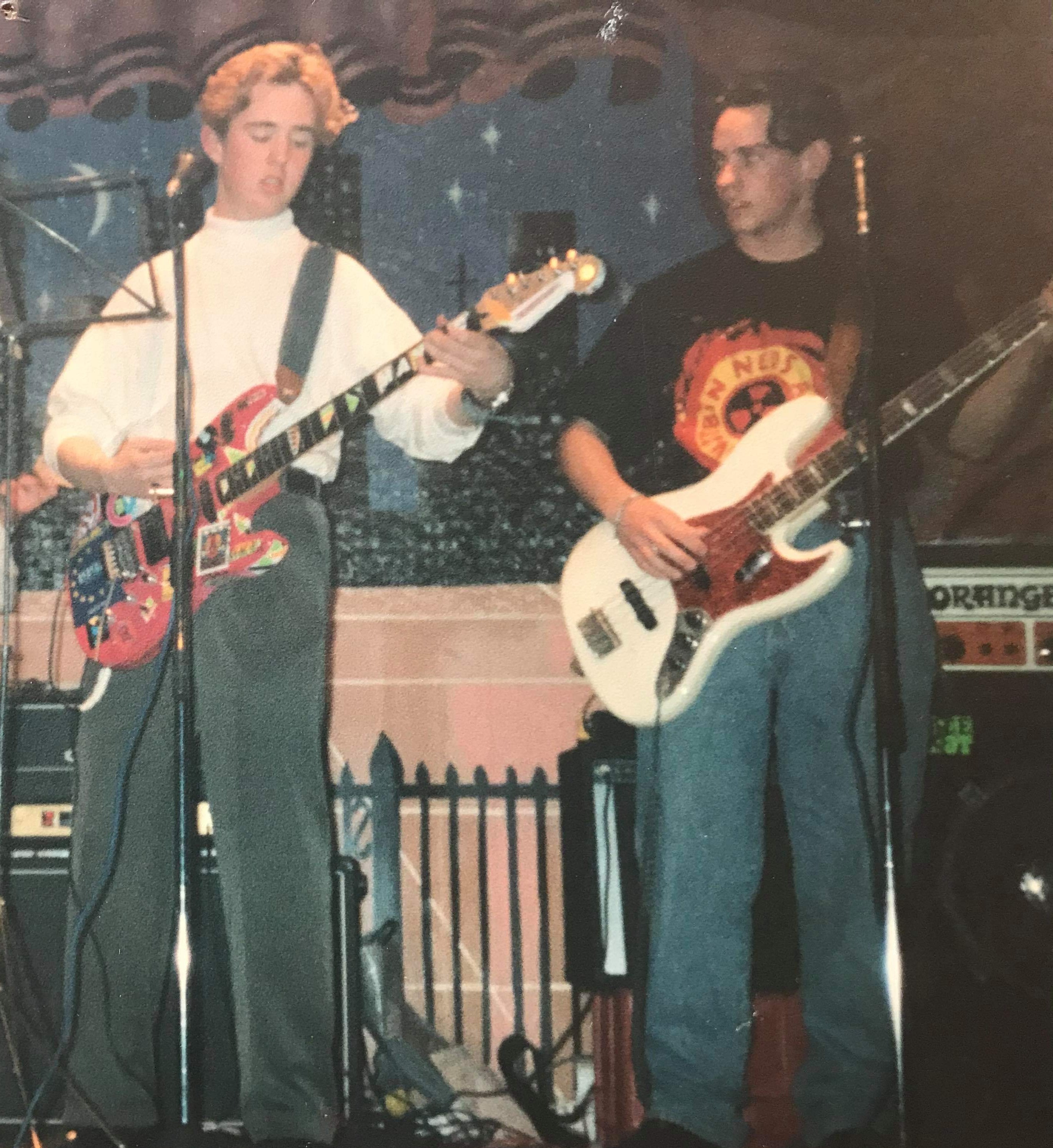 Stuck on TAB...

I picked up my first bass guitar at the age of 14. I just wanted to have fun on it, jam with my mates and become a rock star (not high aspirations then!).
I wasn't interested in reading music and in fact the bass guitar became my creative output to compliment the more formal lessons I was having on the piano and trumpet at that time.
I just played bass by ear, occasionally using the odd bit of Tab and I was having a lot of fun!

My first reading gig...

Fast forward four years and I was now at music college, still studying trumpet and piano. I was jamming with as many musicians as possible on the bass and soaking up the whole local music scene.
BUT... then I got asked to play in a jazz gig to open a Champagne house in France. Being a student without much cash, I badly wanted to do this gig. There was a good gig fee, all expenses paid, and the promise of unlimited champagne! 
There was only one problem - I COULDN'T READ MUSIC! 
I also didn't really know how to play jazz walking bass lines, so I had a real problem. 
Luckily for me, I could already read bass clef from the left hand of the piano, so I applied this knowledge and taught myself to read on the bass over a weekend.   
The gig went well, there were a few tricky moments admittedly, but after that I was hooked on reading and buried myself in any bass book I could find.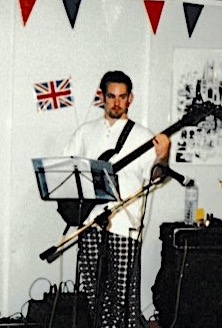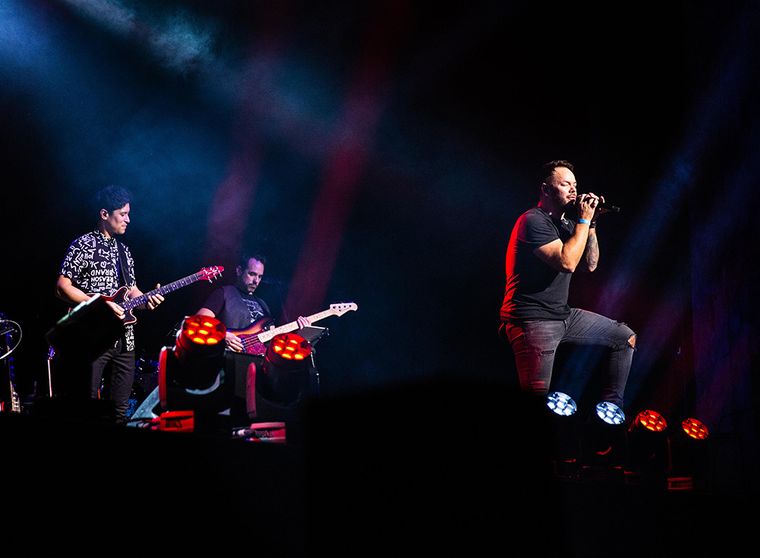 I went from beginner to pro musician in 10 years, entirely self-taught...

All this hard work paid off and for the last 25 or so years I've been working as a professional bass player gigging in many of the world's iconic arenas and venues. I've also played in countless theatre shows in the West End, London. I held the bass chair for Jersey Boys, London and  currently dep/sub on shows including, Hamilton, Back To The Future, The Book of Mormon, and Come From Away.
I also play in 'Symphonic Queen' touring the world with a band, four singers, and a full-sized orchestra. I get to play John Deacon's bass lines on my trusty P-Bass to thousands of people!

So where does this all leave you? You might not want to become a professional bass player, or you might not have the background in music that I had when taught myself to read music.
My Reading Music for Bass Players program contains all the steps that accomplished readers have taken to get to where they are, pro and amateurs alike. 
I have condensed all my experienced with reading music and music theory into the course so you can learn to read in the most efficient and effective way.
Whether you are sixteen or sixty, the only thing stopping you from reading music is:
Access to the RIGHT, specialist information.

Anyone can do it, you just need to know HOW!

Course Breakdown

Module 1 
Pitch 
Rhythm 
Combining pitch & rhythm

Module 2
Notes above the stave
Notation marks and musical signs
Minor keys

Module 3
Advanced rhythms
Working on small focus areas
Recognising patterns & the mental game
Reading chord charts
The course consists of:
10 video lessons
80 page PDF workbook
mp3s of over 100 musical examples

Once you enrol on the course, you can view the videos as many times as you like, and you have access to the course for life.

Read What Others Have To Say About The Course
"I am finally reading music, not hunting the web for Tab!"
"This offering from Greg's Bass Shed is the course I needed to help me to learn to read music.
It is laid out with the bass player in mind (hello? It WAS written by a bassist!)
Last year I printed a song in standard notation since I could only read Tab and chord charts. I thought that someday I would learn to read this. That day has come thanks to Greg's Bass Shed! I read and played that song today!
Thanks Greg, I am finally reading music, not hunting the web for Tab!"
- Durbin James, California
"I am grateful to have a really fine set of lessons that move me along at a good pace"  
"I am enjoying the Reading Music course. You are presenting the material in a way that I can get the first time. I am grateful to have a really fine set of lessons that move me along at a good pace, and with everything building on the material before.  
The exercises are great, and I especially love that they have connections to real songs (like the intro to 'Born Under A Bad Sign') - brilliant!  
I am finally learning this stuff!" 
- Bill James, Massachusetts
"The course is well worth the money"
"I recently took Greg Hagger's Online Reading Music Notation Class. For me, this course was well worth the money and my reading skills will continue to grow as I go over and over the material and the Coaching Calls as I get to keep everything. Greg is a professional, knowledgeable and unassuming musician, teacher and all around decent human being. He makes you feel completely at ease as he explains concepts and answers your questions. I couldn't be more pleased to have found him and his Online Reading Course."
- Floyd Fulmer, US
"Greg was very helpful and super responsive"
"Before I started Greg's course, Reading Music For Bass Players, I could not read any written music. Now I understand and can read time signatures, rhythm, pitch, keys, tempo and everything else from sheet music. Greg was very helpful and super responsive to questions or feedback. I definitely recommend the course."
- Matt Macfie, Australia
"A well paced course"
"Reading Music for Bass Players is a well paced course taught by a true professional, and at the same time the course has realistic expectations of the student. You can go as far as you have the effort to achieve in this course."
- Ken Thompson, US
"A page of notation holds no fear for me now"
"I really enjoyed the course and learned a great deal. A page of notation holds much less fear for me now! It has definitely pushed me to work hard on my reading ability. The personal feedback was particularly helpful." 
- Robin Hoyles, UK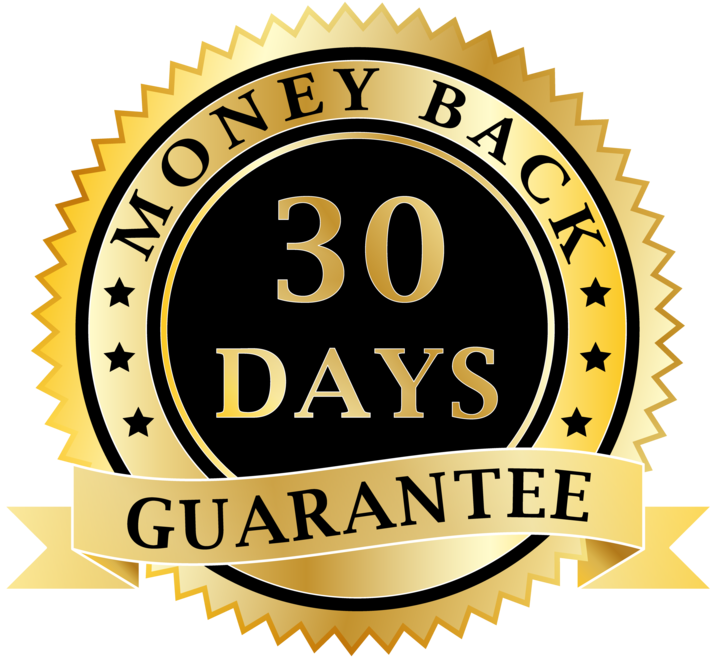 "No questions asked" 30-Day refund policy


I am confident that you'll love the Reading Music program, but if for ANY reason you are unhappy within 30 days, then drop me a line at:
I'll give you a full refund, no hard feelings, and no questions asked.
There is literally no risk - I want you to be able to reach your full potential with reading music and your bass playing.

I am a professional bass player and I also run Greg's Bass Shed, an online educational school for bass players.
This course came about after years of teaching, and listening to countless bass players who want to learn to read music. Many of these players have reached a high level on the bass, but feel that not being able to read is holding them back from learning and playing opportunities.
I have proved time and time again with my students, that with the correct approach, anyone can learn to read music. This course reflects my passion to ensure that everyone who wants to, has a way to do this.